The simplicity of life in hindsight
Tag Archives: Manchester United F.C.
Are you stuck at a dead end job? Do you feel like you've climbed as high as you can on the corporate ladder? Is the pressure of a demanding wife and a gluttonous child causing that drop of sweat to drip down your forehead? Fear no more.
Ed and Louis are top of the line career service professionals; their sole purpose is to support you in your endeavor to make the most of your career.
Edward Gareth Woodward and Louis Van Gaal came together on a sunny Brazilian summer evening at the back of a fine game of football that saw the latter's heralded boys in orange crash out of the World Cup. However, all was not lost, for it was on this fateful evening that the hopes of washed up, injured and underpaid footballers all over the world took a turn for the better. Ed and Louis always believed that footballers, no matter what their plight, have hope of making more for themselves. It was right there in Sao Paulo, on a warm sultry evening, as they sunbathed on the coast, did they decide to embrace each others sweaty upper torsos and embark upon Ed and Louis Career Services.
Client No. 1: Angel Di Maria
Ed being the emotional man that he is, was quite wound up over the cold shoulder that his argentine friend seemed to be receiving in a rather warm part of Europe. Certain matters were taken into his hands and certain british transfer records were broken and exorbitant wages were paid. 36 games and one well orchestrated robbery later, Di Maria finds himself sitting in a luxurious Parisian home, eating French bread, much to the delight of Zlatan who has taken a liking to Angel's compulsive need to suck on his thumb.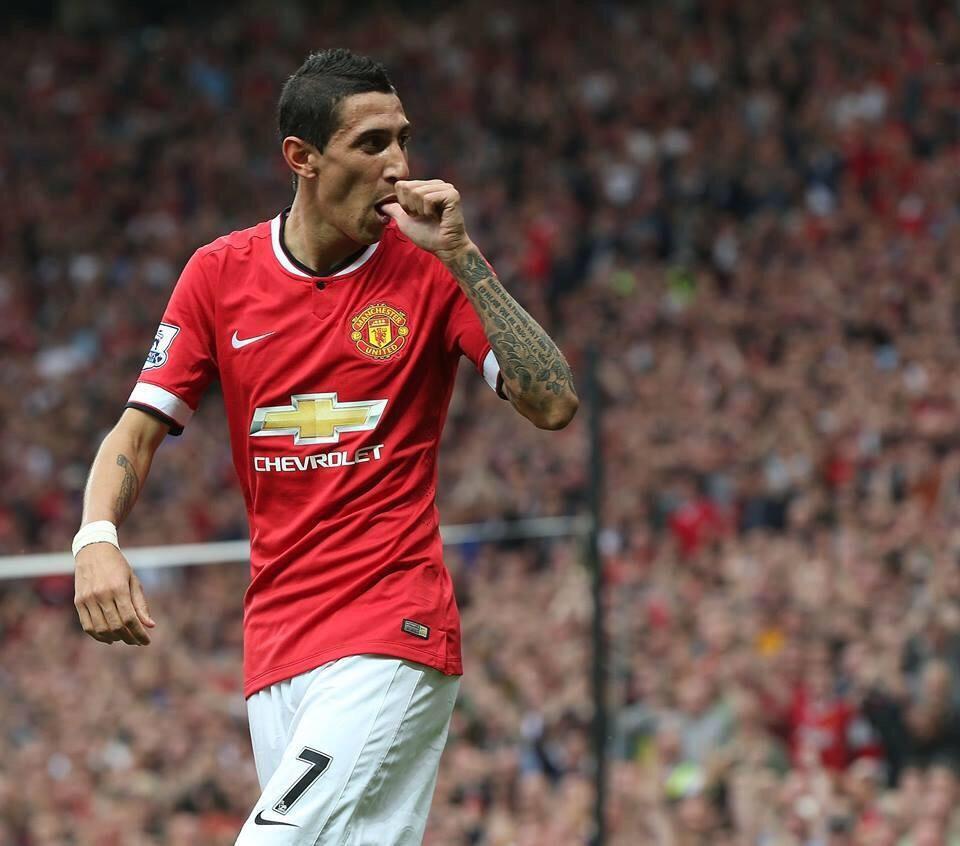 Zlatan had spoken to us after the signing was complete –  "He likes to suck on his thumb a lot, and it will give me great satisfaction when he arrives here". We then caught a glimpse of his face as the move was finalized.
Louis and Ed began their career with a marquee transformation; the relocation of Angel from Madrid all the way to Paris, while periodically stuffing fat paychecks into his pocket along the way, and what's more, they even managed to put Zlatan in a good mood. This is only the beginning of better things to come from this duo.
Client No. 2: Sergio Ramos
Ed and Louis after their phenomenal success over Di Maria decided to take on the sad plight of Sergio, who by his own account, was having serious lady issues. He was quoted saying "Pilar (my partner) has many needs, and I need to live up to it, otherwise, you know, there are many footballers.. *weeps* "
FYI This is Pilar, Sergio's partner:
Louis, on reading Sergio's quote and then later taking a look at Pilar's picture decided to excuse himself for a rather long shower before he re-emerged to contemplate options to address Sergio's very serious condition.
Two months of negotiating and tabling offers and throwing ridiculous amounts on money to Madrid seemed to be the wrong approach as Madrid were getting close to selling the player to Manchester. The career services of Ed and Louis were hanging precariously on a balance as Madrid were prepared to throw in the anchor. Just when all seemed lost, Louis decided to fly to Madrid, and meet personally with Pilar, and from the reports that we received, Pilar was then sent to Perez's office for an extended "conversation". We were told that Pilar's phenomenal oral performance won over Perez, he then proceeded to make Sergio club captain and offered him a juicy increase in wages. Louis and Ed had done it again!
Client No. 3 – Pedro Rodriguez
Pedro was a unique client, his situation was relatively simple, he just wanted to visit Buckingham Palace, and wanted to get away from his new position with Barcelona as Suarez's chewing toy.  He was quoted saying "It's not that Luiz has slowed down biting players, we are now channeling his bites to one person, and that's why I cannot remove my shirt and celebrate penalties like Ronaldo anymore".
This sounded like another job for Ed and Louis. The approach adopted here truly underscores the brilliances of the two comrades. They started by bidding for various figures below 21M (the buy out clause), starting from 20.9M and then working their way downwards. Last we heard, they had tabled a bid for 7M that was down from their previous bid for 14M, and it is at  this point they called Arsene and Jose. Arsene, was less than enthused by a call from the two of them, just as he was preparing for what would have been a humiliating retort to Gary, who had called him a coward (or something to that effect). Arsene is a man of strong will, if he decides not to buy a striker, not even the wily Ed and Louis combination can outwit him into spending paltry sums of money on a player that has spent a good amount of time shaving the back of Lionel Messi and acting as a surrogate chewing toy to Suarez. However, Jose is a different story altogether.
On the back of fake defeat to Arsene's men, he was all up for coughing up some real money to get some real results. Roman, as we gather is not a big fan of fake results, so Jose has had to change his strategy. One thing led to another and Pedro was on his way to London, but not before we captured the look on Jose's face when he heard that Pedro was looking to Jose to show him around the palace.
He was seen getting off his plane with a camera around his neck and a map of London with Buckingham palace circled in red, and Mourinho's house circled in Blue. Ed and Louis has made this dream come true too.
Ed and Louis will have many more fantastic successes in their career, and as I type this out, I have been told that Neymar just rang Ed indicating that his salary seems a little feeble compared Lionel, and he does not even carry the burden of a hirsute back. Never fear Neymar, Ed and Louis are on it.
Dear Sir Alex,
I hope this letter finds you well. My commiserations for what happened at Wembley.  I cannot begin to explain how agonizing it was to watch yesterday's game, I'm sure you must have felt the agony too. I know you've been managing this club since the day I was born, and hence I would definitely understand, if you were filled with trepidation in taking my advice to heart. Regardless, as a devout United fan, I think it's my duty to tell you what I feel.
Firstly, my heartiest congratulations for the 19th title. Oh and nice touch with the banner in Anfield, I guess that new telephone wired to your seat finally came in handy. I've been told from reliable sources that you've got 160 million dollars to spend this summer, and no, I'm not talking about spending your bank balance at Macy's. I'm talking about your transfer budget.
You've done an absolutely splendid jobs with many of the signings; I like the infusion of Brazilian talent into our ranks. Anderson has the talent to fill even Roy Keane's shoes, he hasn't stepped up yet, but I have faith just like you do. The Da Silva brothers are ones for the future, I can see a future when we have the defensive lines patrolled on either side by the Brazilian wing backs. And as for the little pea, hats off for that one, you've just got us our new baby-faced assassin.  However, I think it's time for a new midfield. It's time to thank Ryan and Paul for all that they've done for us, and it's time to organize their testimonial games.
I think it's time that you recognize that Michael Carrick is just not good enough for United, I think  it's time you own up for the mistake that was Bebe, I think it's time you realize that Park can't run for us forever, I think it's time you realize that O' Shea cannot play every position forever. I know, it's unbearable, the thought of having to part with Ryan, Paul, Park and John. But it has to be done.
What's happened to the days when we could turn to our No 7? Where's our Cantona? our Robson? our Beckham? our Ronaldo? We've always had a genius adorning the number 7. We need our genius, Sir. And you can rest assure, it's not Owen.
We United fans are no strangers to losing, we can stand the odd 1-0 defeat handed to us by a scrappy goal or a loss by a poor refereeing decision or a loss because we played like we don't care, but we can't stand being outclassed. But yesterday, as much as I hate to admit it, there was only one team exuding class, and it was Barcelona. If yesterday's defeat didn't open your eyes to how far behind we stand, I don't know what will. Spend the money you have, don't worry too much about the inflated prices, give us our Number 7, and bring back the Glory.
Yours Faithfully,
A Hopeful Manchester United Fan.